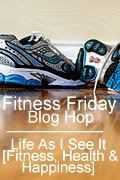 I love the idea of participating in the Fitness Friday Blog Hop - go visit
Life As I See It
if you would like to participate! She has all the great details!
Fitness Friday thoughts from me? Mostly shopping and clothes related (how shallow is that?). But we all want to look great when we are out there - right? I'm just as guilty as the next runner, but don't care quite so much most of the time when I'm out in the pre dawn hours for my runs. Though, come a race, I have been known to be quite worried about what I should wear. It must be cute, comfortable, and lightweight. I want to look like I just stepped out of a magazine.. or a catalog... or a website... I'm not picky!
It's very tempting when places like
runnningskirts.com
keep sending me emails with tempting offers of "free shipping" and "new product lines"... Happy Fourth of July they said! Then I decided to do an inventory of what sort of running clothes I really do have....
Picture quality is low... but you get the idea
This picture was taken with three complete running outfits taken out of the mix since they are dirty.. and it still appears that I could go for quite a while without washing a thing if I wanted too. Do I really *need* the cute new running skirt? Will I be able to squeeze my exercise apparel drawer shut if I did? I did managed to take one pair of shorts out after looking at this mess. They never fit right to begin with. The drawer still really didn't shut that much better.
How much is too much for you? Do you regularly wear all the running clothes you have - or do you just wear what's on top of the pile (not that I would know anything about doing that!)? Or maybe you are one of the lucky ones that could use a few new pairs of shorts? I'm curious what is in your fitness closet!
PS - Good News! Something that actually does have to do with fitness. I ran the "Hill" again today, felt like jelly while doing it, but don't hurt now that its done and has been a few hours! Yay! Better yet, it's finally the first day I'm not sore from Monday's gym workout! Double Yay!