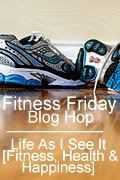 If you're joining in for the Fitness Friday blog hop - welcome! Make sure you comment so I can go visit you as well!
Let's talk running shoes. I love mine. I am currently running in the Saucony Pro Grid Triumph. It's like running with pillows strapped to your feet. I suppose this does not make me a minimalist runner?
Chris McDougall
and
Barefoot Ted
would hang their heads in shame.
I have been running in a pink pair for months now. I've loved my pink pair most of all because they matched my outfits on race day. Silly reason, but most of the time, I just end up with the pair that was the least expensive. The last time, it turns out that the pink ones were. This time, the pink ones were not. These lovely teal blue ones were.
Smell that new shoe rubber!
I didn't even realize how long I'd been in the pink pair until I got to adding up the mileage... I was nearing 700 miles in those shoes! No wonder they were looking a little dingy! I know, I shouldn't run 700 miles in any pair of shoes. Are they hurting me somehow if I don't feel hurt? Or will running in old shoes make me more prone to being hurt? I'm going to say the answer is probably yes to both of my questions and I really need to be better about buying new shoes. After all, new running shoe rubber is one of my most favorite smells in the world.
Too bad there is always something the kids/house/life need that seems to get put on the priority list higher than running shoes. I even have a running shoe fund in our family budget, but it always seems to deplete quickly because my cute husband really goes through shoes fast. He's lucky if he can get 300 miles out of a pair before they start hurting his body somehow.
Ready for a run... they will never look this new again!
Do you switch out running shoes like you should? Or are you bad like me and remember when your shoes are starting to look road weary and realize they are probably long past their expiration date?