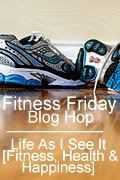 Welcome to yet another Fitness Friday. Thanks again to
Jill at Life As I See
It for hosting. I'm thoroughly enjoying visiting lots of blogs I would have never found without the blog hop!
It's been a fun, but exhausting week. It's been my first full week at my new job. It's been my first week "back on track" with my running & my fitness plan. It was also my first week to try my meal plan... not only to help myself eat a little cleaner, but to help things run smoothly around my home after work when my kids and cute husband think that they will soon die if they don't have something to eat within the next 10 minutes. I have decided that I follow written plans so much better than having mental plans that I can't look at and be reminded with. If I ever have another doubt, this week should be my example. I need to remember to read this post when things get out of control again!
Backcountry Burros. They may not be glamorous but they did get me $50 worth of gear richer!
A couple of other fun things happened as well. I was chosen as a contestant in the local outdoor outfitter's "Extreme Picnicker" competition. I got to compete against 3 other people making a backpacking type meal. I didn't win. But that's OK. It was fun to have family & friends cheering me on. Mine was the only one I would have wanted to carry into the wilderness for any distance anyway (the rest looked *heavy*!!). And I did get a $50 gift card for competing (how much Strawberry Lemonade Nuun will that buy me??).
Then, I found out yesterday that I actually *won* a blog giveaway from
Sara at Words to Run By
... a month of personal training! I'm pretty excited seeing as I a) don't win things and b) won something really useful! I've always wondered what it would be like to have a personal trainer to ask questions and get me going in a good direction... now I don't have to wonder any longer!
Have you ever had a personal training/trainer experience? Or are you the type to plan your own training? Do you use a magazine to plan your workouts... or something else? I'm curious as I am about to dive into having my own trainer... what has worked for you?
Also, if you are looking for a virtual race....
Carrie over at Family Fitness Food
is hosting one for her birthday. It must include at least one hill and is between August 7-13. And she has prizes too. Go check it out.