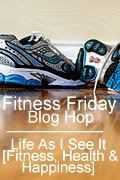 If you are visiting for Fitness Friday - welcome! Leave a comment so I can make sure I go and visit your blog and visit with you as well! Thanks again to Jill at
Life As I See It
for sponsoring this blog hop!
Well, life got in the way. I meant to hang an "On Vacation" sign up so you wouldn't think I just disappeared, but the couple of days leading up to leaving got, well, crazy. Really crazy. And then we were gone. To Utah. We went on a family backpacking adventure in the Uinta Mountains east of Salt Lake City. There was not any internet service, so the vacation post didn't happen! Needless to say, I didn't run while we were doing that either. I did walk a bunch. With a heavy backpack. We stayed with my friend Ann in Salt Lake City when we were done with that. The lucky girl lives in Big Cottonwood Canyon, just minutes away from world class skiing, hiking, and moose. I had planned on running while we were at her house, but we were so busy, it didn't happen either. (Actually, the one morning I planned on trying, I woke up with a stomach bug and spent the day in bed instead - yuck!) My cute husband did go out and run the canyon... and said it was painfully hard at the 8000+ feet in elevation she lives at. Maybe it's good I *didn't* get to try!
How do you manage your exercise routine while on vacation?
While I did get in some excercise hiking and such while I was gone, I didn't get a run in. Do things like this drive you nuts - or do you enjoy the break?
This riverbed is dry about 350 days out of the year.
What a treat to see it with water in it!
I was back to work today. I celebrated my new job by going out for a run beforehand. I watched the sun start to rise as I was running along a normally dry riverbed. We have been having our summer rainy season so the dry riverbeds are running a little more often. It was totally worth getting up so early for!



While I was gone, my smoothie recipe was featured on
Foot Forward Strides
... make sure you stop by her blog and check out all the smoothie recipes that she has been featuring. They are really very inspiring!