Welcome to another Fitness Friday. Thanks to
Jill over at Life.. As I See
It for hosting. Leave a comment and let me know who you are so I can go visit you as well!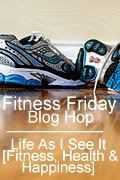 My good friend, Ann, has been writing for the local fitness magazine the past few months. Those magazines that you can pick up for free at your gym or library. You know - the kind that offer a few tidbits about a lot of things, give you the rundown on local events, and are a quick read. She recommended my family to be featured in this month's Fit Family Feature. I haven't actually found this yet in print, but a PDF version is just as good - right??
This photo is getting lots of mileage... first our Christmas card photo and now our magazine photo.
The Brenton family
Meet Tucson's Brenton Family
Rik, 40 • Amy, 38 • Caitlin, 16 • Philip, 14
When they're active: The Brentons enjoy backpacking, rock climbing, running and cycling as a family. Rik is an avid trail and road runner and mountain biker. Amy enjoys swimming and Pilates. Daughter Caitlin is a dancer who focuses on ballet, and Philip plays soccer in addition to taking part in the other activities listed above.
Favorite Arizona destination: Aravipia Canyon
Favorite family meal: Homemade pizza
Favorite family snacks: Popcorn and smoothies
Screen time: yes or no? "No to TV (Olympics & elections are the only times the TV comes on). Kids earn computer and video game time. The kids get one hour per day if chores and homework are done." The family watches a movie together a few times a week.
How they find the time to fit it all in: "We take turns making sure everyone is where they need to be so that we can all get in everything we want to do. We have to plan ahead to make it all to work. We make sure the other person gets their workouts in."
Best tip for families that want to be more active: "Turn off the TV and stop making excuses."
To see the whole thing with more photos visit the pdf version
HERE
.
And, FYI, in our email "interview" I focused more on my running and not as much on my cute husband's running. I focused on his rock climbing. But, here we have it in print that he's the runner. Um, who has the running blog here??? Who enters races and makes yearly mileage goals?
Hint... not the guy mentioned as the "runner" of our family. *sigh*
Hey, but it is my 15 seconds of fame... I suppose I should just go with it and enjoy it!