Poking my head in to wish everyone a Happy Fitness Friday!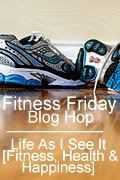 Thanks http://jillconyers.typepad.com/ for hosting! I can't wait until this evening so I can go visit your blogs (darn work - getting in the way and expecting me to spend 8 hours there and actually work!!).
I just realized this was my 100th post at this blog - so - Happy 100th Post to me.
I am on the training train now. I got up and ran 6 miles this morning. Since it was dark when I started and I knew it would be light when I finished, I was really looking forward to a beautiful sunrise as a reward. I was getting worried because it was getting lighter and lighter out and there was no sunrise in sight due to clouds on the horizon. The street lights clicked off and nothing. Nada. I rounded the corner to finish my miles and suddenly as I was slowing down to stop, I looked up and there was this beautiful picture:
Excuse the "For Sale" signs. I live in AZ - the nations capital for foreclosures. Of course there are some in my neighborhood as well.
It was like I was being cheered on for finishing something I knew I could do, but needed the mental toughness to accomplish this morning - after all - I still had kids to get out the door and work to arrive at looking fresh and relaxed! I enjoyed the scene. Five minutes later I looked out to show my kids, and the clouds had moved back and the sky was gray. I told you. The heavens were clapping for me. It totally made getting up worth it!
What about you? What makes your runs worth it? Is it something big, something little, or something someone else would think was insignificant? Does it have to be something you can share? Or do you keep it to yourself? I'd love to hear what keeps you going!